Paanchi (The Bird) - Producer/Director/Actor: Akash Adhikari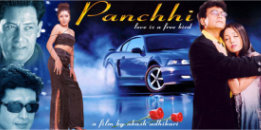 Synopsis:
Every parent in this world loves his/her child very much. They are dearer than their own life and this is the truth. From childhood till he/she becomes an adolescent they have to think about their future, show them the right path giving useful guidelines from time to time, which will enable to lead a good life. When they reach high school and college, they share their life with the person they like and love.
But in this 21st century, the young generation can differentiate between what is good and what is bad. They prefer their own choices. The living standard and financial position is a not a barrier between the two lovers.
Starring: SHIVA SHRESTHA, RAJESH HAMAL, KARISHMA, POOJA, SHARMILA MALLA, TIKA PAHARI & AKASH ADHIKARI